Picture a quiet suburban neighborhood, on a sunny, summer afternoon. Let's go down this street to the brown house at the end and step around to the backyard. Here you'll find three boys sitting at a picnic table, all carefully putting together the lastest King Kong Aurora model kit! The competition was between myself, Richie and Mike.
It had nothing to do with putting the kit together. Oh, no! The mark of a true model maker was in the final PAINTED product!
I have to be honest here, and tip my hat to Richie. When he unveiled his final piece of work, they were truly masterpieces!

So let's take a romp back in time to the mid 60's, where my love of a good model started.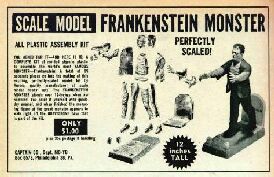 Let's start with the Classics. And first on the list is the good ol' Frankenstein Monster himself.
This was a pretty straight forward model. (Most of the early Aurora Models were not difficult to put together...by 'straight forward model' here, I mean as far as painting goes).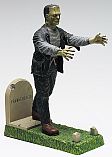 You always got your original ideas for painting your models from the box cover itself. Since most of the Boris Karloff movies were in black & white, your research material was pretty much limited to either back copies of your Famous Monsters of Filmland magazines or the box cover. There's a color of Olive Green, that to this day will always be Frankie Green to me! The base of the model was a simple grave stone and he stood on top of a grassy grave site. Wasn't much you could do with the base...make the tomb stone weathered, and playing with dead looking grass was fun, but Frankie was pretty simple.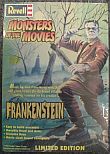 Revell-Monogram re-issued the Monsters of the Movies version of Frankenstein in the Summer of 1999! A TOYS-R-US exclusive.
On 22 Aug 99', the Polar Lights/Revell/CineModels Long Box reissue of Frankenstein appeared!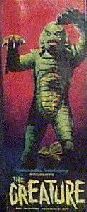 The Creature from the Black Lagoon was a fun model to put together. Again, like Frankie, this was another easy one to paint. I've seen some photo's of this model that are really impressive, with some nice shading of green, with a reddish tint to the stomach area.

The base for this model had alot more fun stuff to fool around with. A little lizard, a snake entwined in the tree, and a great skeleton hand! (What more could you ask for!!)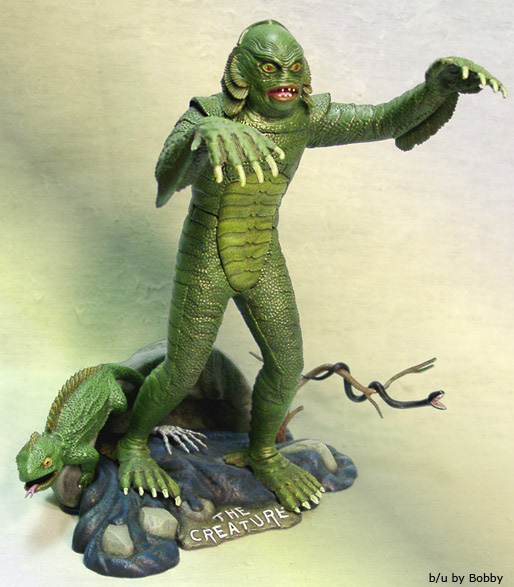 Luckily for those of us who have NOT grown up, POLAR LIGHTS produced a re-release of this model in March of 1999! Now you don't have to hunt eBay and pay a hefty price for this classic! Molds provided by REVELL, box & instructions by PL! Run to your nearest hobby shop and pick one up TODAY!!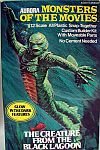 Aurora's 'Monsters of the Movies' gave us a great kit of the Black Lagoon resident in a nice swimming pose. MOEBIUS kindly redid the kit for us to all enjoy again!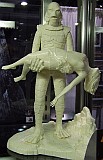 It was announced in 2000 that Polar Lights will be releasing a new Creature kit in '...a water version with a girl in a modest swimsuit' sometime in 2001! (Unfortunetly there were no business takers at TOY FAIR so this kit was later cancelled)... but...
Good news for Creech fans, announced at the 2011 iHobby Expo, was the appearance of this 2 figure set coming out from MOEBIUS!

To see a list of ALL the Creature kits that have been produced to date!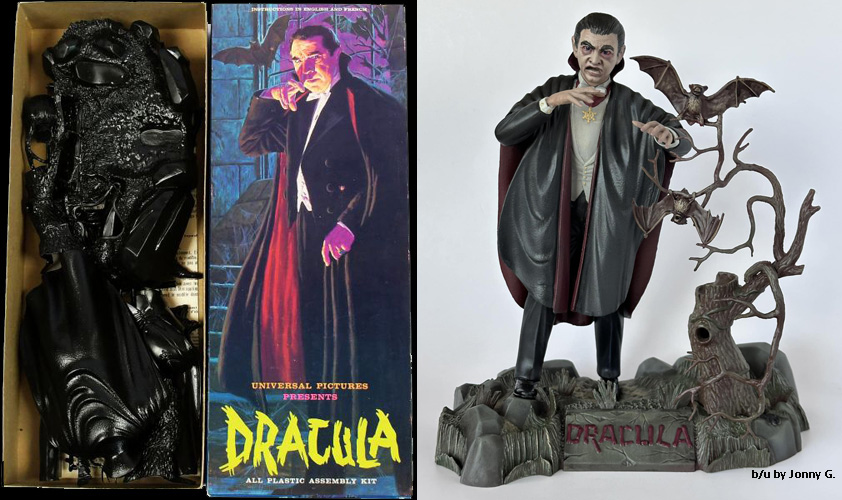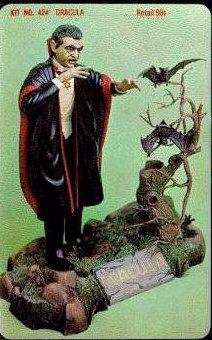 Was there ever a better Dracula than Bela Lugosi?? Unfortunately, none of us thought the face on the model truly captured Bela's, but this model was much more challenging then the last two. Now we had facial features to sweat over. Unlike Frankie, whose face was pretty large and easily painted for effect, Drac's face was a little more difficult.
And you had that neat, but really tiny, medallion to get right. The cape was harder than we thought at first. Sure you could easily have just painted it flat black...but where's the fun in that??! The trick was to make it look flowing and material-feeling to the eyes!
Frankly, we wished that the model inside the box was posed like the image on the box cover! Was an incredibly sinister pose, and the final pose of the model appeared as if Van Helsing was about to dose our anti-hero with flaming gasoline!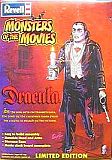 Revell-Monogram re-issued the Monsters of the Movies version of DRACULA, in late Summer 99'. Again, it's a TOYS R US exclusive.
Also out in July 99, is Polar Lights' Dracula's Dragster.
In late Sept 99, the re-issued 60's Aurora version appeared at TRU stores. Again, molds provided by REVELL, box & instructions by POLAR LIGHTS!




Okay, be honest with me...didn't you think that Talbot was a whining SOB? The man desperately needed to spend some time around Jack Nicholson to truly learn how much fun it can be to run around on all fours!!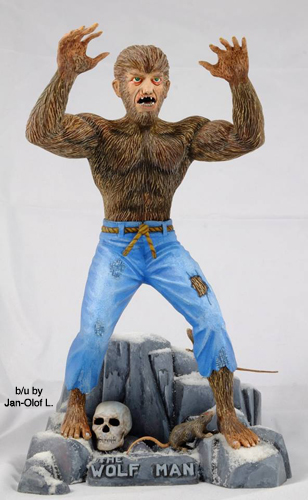 Although we bought this model, I think the only one who liked it was Mike. For the rest of the 'Gang', there really wasn't much you could do with this. The base was simplistic...a couple rocks, a rat and a skull, and I recall Richie wanting to paint a psychedelic paint-scheme to his blue jeans!!
The pose was campy, and was ripe for some off-hand deodorant remarks made back and forth. Overall, a pretty 'Ho-Hum' entry into the Monster collection.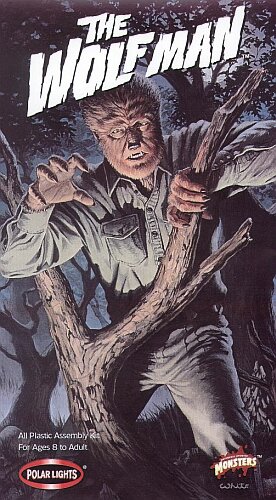 Late August 99' the TRU Long-Box re-issue arrived on the shelves. Check your TRU to see if he's there! Again, this is just like the 60's version.
If you don't want the re-issued 60's version, POLAR LIGHTS have produced a brand NEW Wolfman! One that is closer to the view we loved on the box top!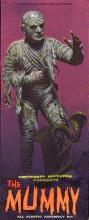 Now this model was more like it! Now we could really show off our stuff with the paint brush!! The challenge: To make really ancient looking wrappings! Plus you got a really cool Cobra for the base!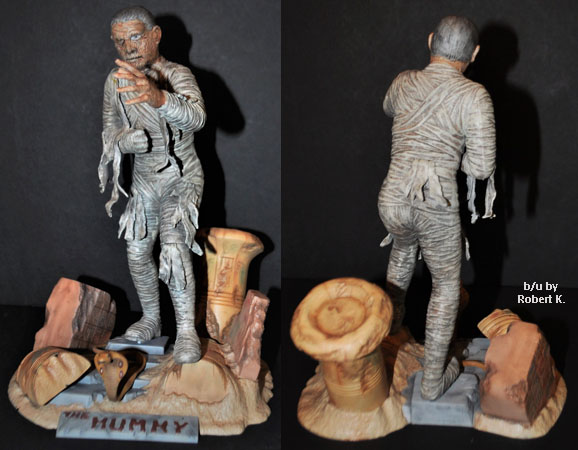 The face was especially difficult, as I remember. It wasn't certain if there should be wrappings on the face or if the face was uncovered.
In July 99, Polar Lights'/Revell/Cinemodels' reissued Mummy appeared on the shelves. It too is a TRU exclusive and is an exact duplicate of this mid 60's favorite.
In May of 99' the new MUMMY movie hit the big screen! Polar Lights issued their version in Oct 99'.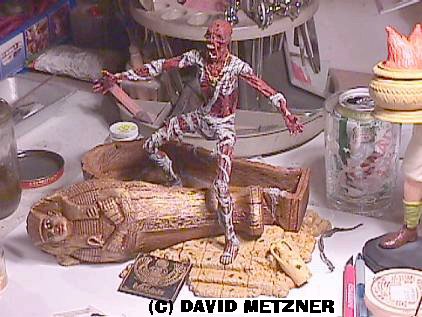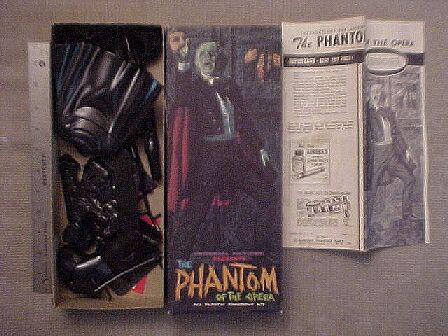 For some odd reason I can't recall building this as a youth? In fact, can't recall any of my friends building the Phantom?!
Not sure why, either? I do know that of all the Aurora monster models, if I was to rank them in order of favorites this particular model would still come before The Wolfman.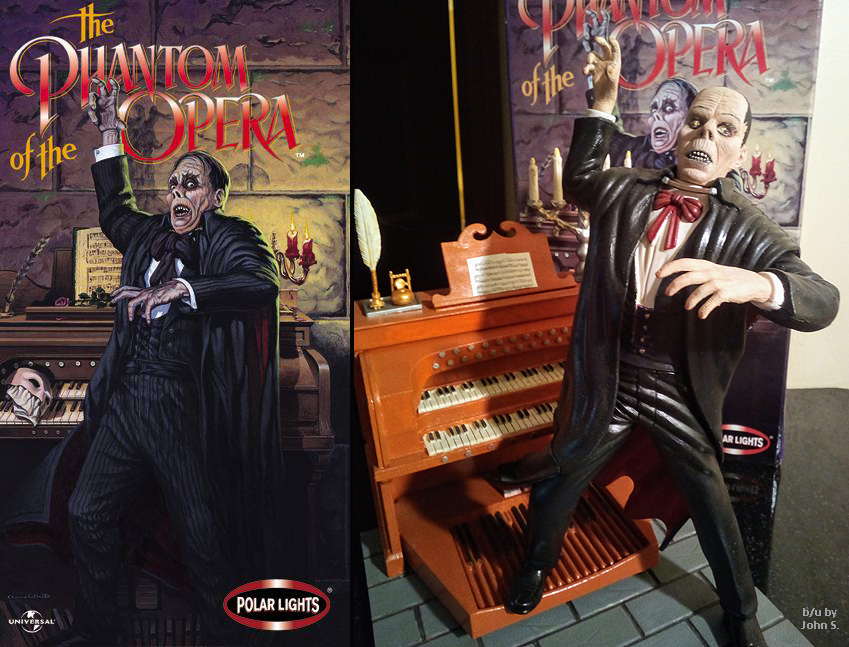 And although I find creature type monsters to be more fun to do than human-type figures, I did like the challenge of painting humans. Dracula, Hunchback, all the SuperHeroes hold vivid memories for me. So what happened with the Phantom?
Chris White's box artwork of Polar Lights' Phantom kit, on shelves March 2000!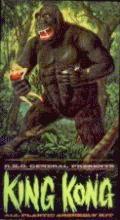 Of all the models featured on this page, this one probably holds the most memories for me, and is, hands down, one of my favorites from the early 60's.
My only complaint with this model, is that Aurora did NOT use the top of the Empire State Building for a base and have Kong swatting airplanes!
The original Aurora edition Kong goes for a pretty penny. I acquired the 'Luminator' version off eBay, for $31.00.
POLAR LIGHTS' came out with a re-issued KING KONG in October of 2000!! Kit by Revell, box & instructions by PL! So now you don't have to search eBay for an old Luminators version!!
Visit the Spotlight On... page for a look at ALL Kong kits!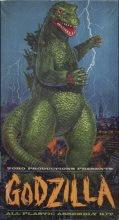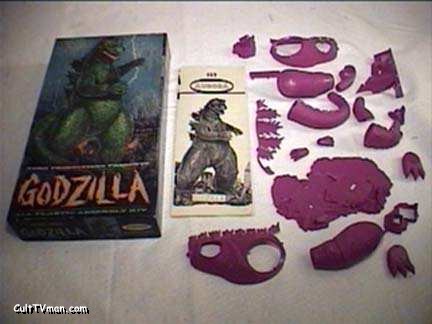 No self-deserving model collector could pass up the companion piece to ol' Kong and NOT get Godzilla!!

Who could forget the gaudy purple color that this model came in!! When we opened our boxes and saw this, we knew for sure that someone at Aurora was in the "Happy Place" when he mixed the plastics!!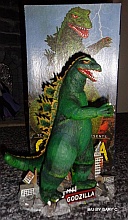 This was a great model to make. With the crushed cityscape beneath his huge feet, you could spend hours making great total disaster features! And getting a nice shade of different greens on 'Zilla's body had me up til the wee hours of the morning.
CineModels put out a re-issue in the mid-80's, & Monogram put out a reissue in 1995, after getting the Aurora molds, and can still be found quite easily.
Polar Lights reissued this Aurora classic, (Revell now held the molds) ...appeared on hobby shelves in Aug 2000!

Although a prototype was made, this Godzilla version, planned for the "Monsters of the Movies" (MOTM) series never came to be.
Here's a video of it by Phil!

We were all treated to a new look for Ol' Greenie in the 1998 movie, and although models have been non-existant so far...Polar Lights had plans on releasing TWO versions of this model. The first would have been just Godzilla, with a later version including Babies. Sculpted by James Groman.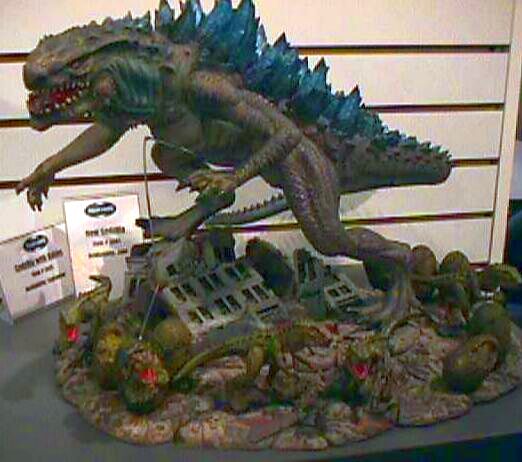 PL's New Godzilla with Babies!
But on March 23, 2000 it was announced that Polar Lights pulled this model from production. Was stated that this kit was too expensive to produce and is being shelved, for now.

In May 2006, this resin version popped up on eBay. Although a few resin cast were made from Jim's prototype, David Metzner tells us that those were all accounted for. Turns out a few more were casted up unknowingly & are only now being seen. This particular cast was sold by draven687dah of Cincinnati, Ohio and sold for $510.00.
Who made up the extra copies is fueling quite a discussion, and exactly how many copies are out there without permission remains to be seen!
In late Oct 2000, they did announce that a 16" version from the GODZILLA 2000 movie will be issued in 2001! ...and paved the way for this new 16" version to be produced!
Here Chris White holds up the Box Art painting he did for the kit, preliminary photo's of the kit itself from WF, and just posted on the PL website better photo's...





Kit hit the shelves in December 2001!

Polar Light's new Godzilla's GO KART was sighted on shelves on 8 October 99! Great having this in my collection once again!

The bad new is that Polar Lights received a 'Cease and Desist' order from Sony and can no longer sell it.

On July 24, 2000, James Moorhead wrote this after returning from the 2000 San Diego ComicCon: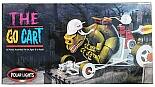 "Speaking of Godzilla, Polar Lights was there and was willing to set the story straight about the Go-Kart and the other Toho Titans.
It seems they knew up front that Toho didn't like the humorous aspect of the Go-Kart but PL felt that if they left his name off, it would get by. Well it wasn't long before SONY, not Toho, served them up with a cease and desist order. As a result, Polar Lights can no longer sell the Go-Kart. And they have a warehouse full of them!

It wasn't a case of licensing rights -that's covered -but a case of poking fun at the big guy and the movie moguls not liking it. Whatever."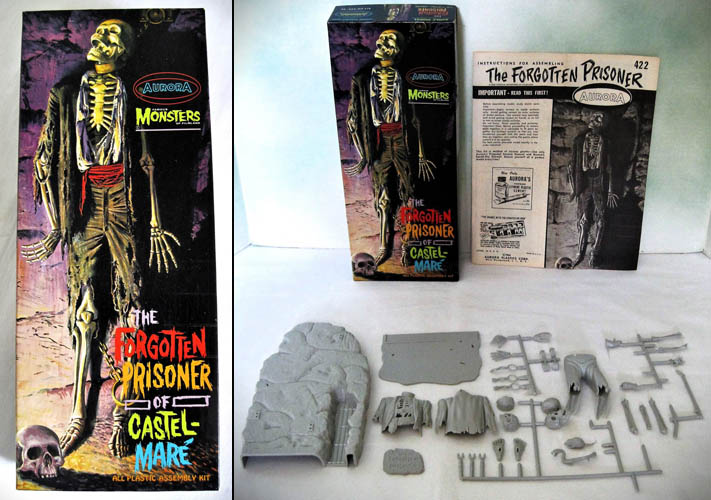 Another great model to make your Mom cringe was The Forgotten Prisoner of Castel Mare!!
It was the only new horror kit ever released in 1966 and was created and copyrighted by 'Famous Monsters of Filmland'!
It appeared again in 1969 under the 'Frightening Lightning' series, and 1969-1975 in the 'Glow-In-The-Dark' series. CineModels reissued the kit again in the mid 90's!
Polar Lights' reissued this great kit in April 2001, with PL doing the instructions and box art, and Revell providing the model kit!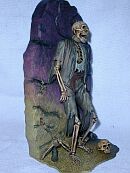 Scott Terry recently finished his Cinemodels issued version and painstakenly duplicated James Bama's outstanding box artwork, making this the best painted version I've ever seen, hands down!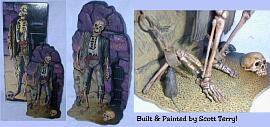 If you went to Monsterpalooza 2015, you were
lucky enough to see Mike Hill's 1:1 Aurora figures!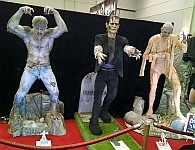 Starting in June 2006, the buildings that housed our beloved AURORA Corporation, at 44 Cherry Valley Road, West Hempstead, New York, were demolished.

On one of the many On-line Auctions, someone had original Bama artwork of the Creature and the Mummy for sale. Opening bid was $100.00 and both closed out at $12,500.00 each!
Whether true Bama originals, I couldn't say, but was interested in learning that it is a one piece painting, which means, if they are originals, they were later cut in two for each individual box art.
Days later, over on eBay, we suddenly see a reportedly original Salem Witch canvas used for the box art. There was also this Aurora display model of our favorite Witch, which features a fabulous paint job!
Also on eBay, Moephyl was selling the original art to these two kits:
1971 Aurora Monster Scenes Giant Insect Original Box Art.

Here is a painting of the infamous Monster Scenes #643 Giant Insect kit. It's executed in gouache (opaque watercolor paint) and measures 10 3/4" X 5 1/4". It was used on the side panel of the box as well as the inside of the Monster Scenes dealer catalog.
1967 Aurora #206 Snuffy Whoozis Model Kit Original Box Art.
Here is a painting of the funny Snuffy Whoozis father. It's executed in gouache (opaque watercolor paint) and measures 14 3/4" X 11".

Take a side trip over to the Paintings page, where I have other photo's of original canvas work, and promotional photos.

If you love Aurora, be sure to check out the Witches Dungeon's DVD


As the 60's were coming to a close, and TV started to become an influence, my model making started to shift from the horror avenue, to my other interests.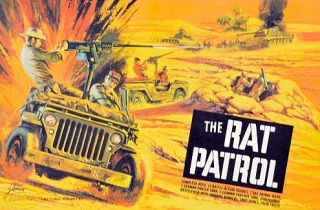 The RAT PATROL was especially fun to put together. Once built, it made a nice diorama. Scale was different than I was use to, but this started my movement to Science Fiction Spaceships and the Star Trek diorama's.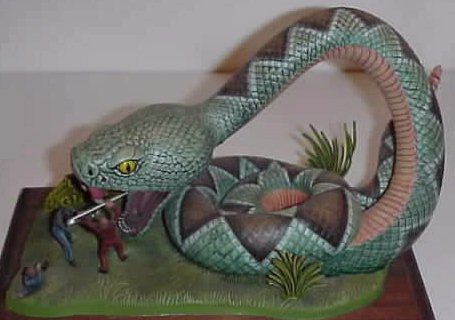 I really loved this LAND OF THE GIANTS model. The ad of the time stated "...that, you too, could own this great model for just $1.50!!" Couldn't believe they were that inexpensive...(and I convenietly forgot how hard it was to raise that buck fifty, too!!)
The best paint job I've seen to date would have to be S.M. Clark's fantastic brushes on this model! It was absolutely fantastic!!
Polar Lights' released their version in 2002! As well as the Spindrift, & Seaview!!!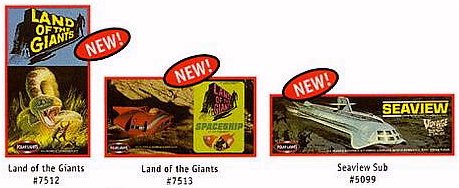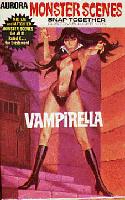 Vampirella! What can one say about this, except she was the lustful desire of every 10-15 yr old boy! I recall when I walked up to the cash register with her firmly in hand, an old lady called me a degenerate for purchasing such filth!! Ah...she knew me so well! Actually, it wasn't that good a likeness, once it was built. Her face was all wrong and she appeared, to me at least, a little chunckier than she should have been.

If you don't mind spending the extra bucks, there are resin versions of Vampi. One, made by Impact, sculpted by Sugita, is truly fantastic. In fact, there's a whole slew of resin Vampirella's! They vary in prices...but what the heck!! It is, after all, our favorite Vampire, after Drac, of course!

I've added a new page Spot Lighting all the kits based on our Femme Fatale!
The SUPERMAN and BATMAN models came out with a flood of other superheroes. Including action figures from MAN FROM U.N.C.L.E., and the 007 films. I enjoyed building the BATMOBILE alot and see them also for sale on eBay. I recently obtained the IMAI 1/32 scale version for $43. Isn't to big...car's only six inches long.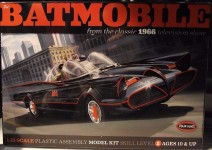 I did pick up the 1995 reissued FUTURA from Revell and plan to use the conversion parts from SkyHook to turn it into the Batmobile.
In 2011, Polar Lights issued a 1/25th scale Batmobile, in both a snap-kit & glue version! and for that, we are eternally grateful!

Revell reissued the 60's Superman, Batman, and Robin in the Fall of 99!! These are TRU exclusives as well. Found Robin in TRU, Nov 4, 99'!! Batman & Superman found Nov 13, 99'!
If you'd like to convert them to various other characters, stop by the REPLACEMENT PARTS page. Tom Parker made up a SPACE GHOST head for use on Superman's body, and a female Robin head (with neat glasses) for the Robin kit! There's heads for a retro Adam West & upcoming Burt Ward versions as well!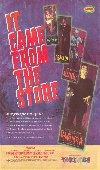 Here's a flash-back back to the past. This was the poster on display at Toy's R Us stores in late 99'! Polar Lights, Cinemodels & Revell's joint reissues have Frankenstein & Wolfman, which just appeared, followed closely by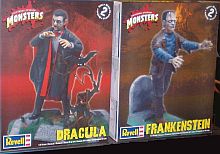 Dracula. Again, the Mummy appeared in July. The Creature was NOT a TRU exclusive and can be found in local Hobby Stores.
Revell has announced they are reissuing them again, (in new boxes), in early 2009.
Moebius Models arrived on the scene in early 2008. Frank Winspur, former owner of the 'Dolls & Hobby' store in Florida, entered the styrene scene and has been producing great kits hand over hand!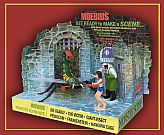 His 'Monster Scene' kits hit the streets in late 08', comprised of Dr. Deadly, the Victim, the Hanging Cage, Giant Insect & the Pendulum! Expect alot more great styrene kits from Frank in the coming years!

I've got a closet full of models safely sitting on the shelves now. For Kit Reviews & WIP steps throughs of the models I've built recently, stop by my Work Bench page!
I still have a list of models on my 'Wish List' which for every one I'm able to cross off, I end up adding 3 or 4 more on to it!!&nbsp Well, as the wife says, "It'll keep you off the streets!!"
If you get the time, do visit the LINKS page. If you enjoy model building, then these sites will inspire you to get out that old tube of glue, sneakily "borrow" the wifes nail file and start spreading some newspapers all over the kitchen table one more time!
For the opportunity to visit both Phil's and Bruce Bishop's Basement and see their impressive collection of models, go down to the Basement.
Now stop looking at this screen and GO BUILD A MODEL!! - Buc