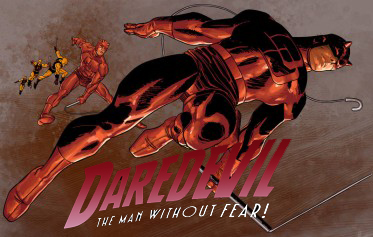 Daredevil debuted in Marvel Comics' Daredevil #1, April 1964,
created by writer-editor Stan Lee and artist Bill Everett.
Jack Kirby designed the basic image of Daredevil's costume, though Everett modified it.
The character's original costume design was a combination of black, yellow, and red.
Wally Wood introduced Daredevil's modern red costume in issue #7.
---
Randy Bowen
Iannus
Halimaw
Gabriel
Luna
Far East
Imports
Mojo
Resin
Jesse
(WIP)
Unknown
N&T
Prods
Vance T
Fito
Nimajneb
Ken
Jones
Chlouis
Spyda
Shawn Nagle
Knights
Models
Dragonwyche
Tony
Zang
Clayton
Blakey
Rocco
Mojo
Resin
Vance T
Unknown
Jayco
Resonating
in Resin
Devil's Own
Resin
(WIP)
Marqueskerr
(WIP)
Adam Beane
(WIP)
Pathos Creations
(WIP)
Goodfellas
Resin
Roberto
von Behr
Helder
Moreira
Spot Light On...