Most of the guest stars at the 1980 San Diego Comic Con definately provided us with many of our favorite kit subjects!!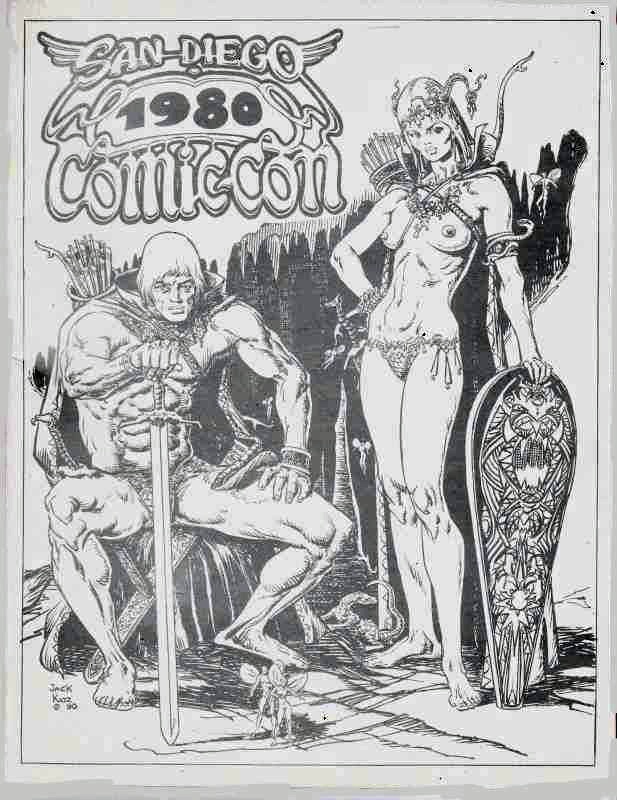 I was looking through my shelves the other day for reference material when I came across these photos and flyers of the 1980 SDCC.

Fondly remember these FIVE days of mingling with some of the giants in the Comic and Science Fiction genre's, and have to say, to date, this was the BEST convention of all the conventions I've attended!
Strange to see how much this con has changed & grown so far away from it's original draw!

Hope you enjoy this romp back to a simpler day ...to see some of the legends in the flesh, some since passed away, many still going strong.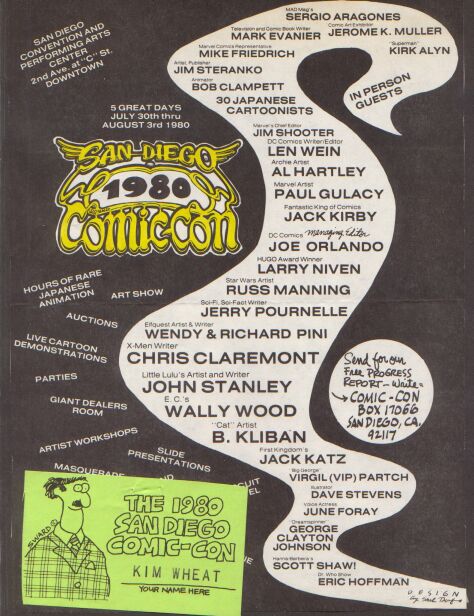 This was an early Guest Roster. Unfortunately not all of these people were able to attend in the long run. Sadly absent were Jim Steranko, Bob Clampett (of 'Beanie & Cecil' fame), and Wally Wood (who I really would have liked to meet!).



But there were alot of my idols who did make it out there!!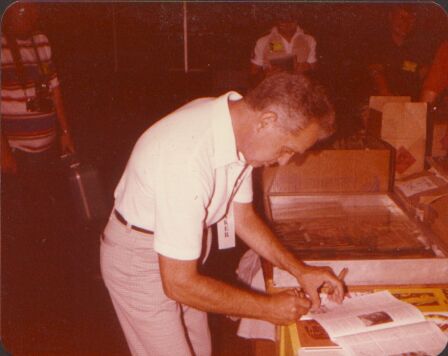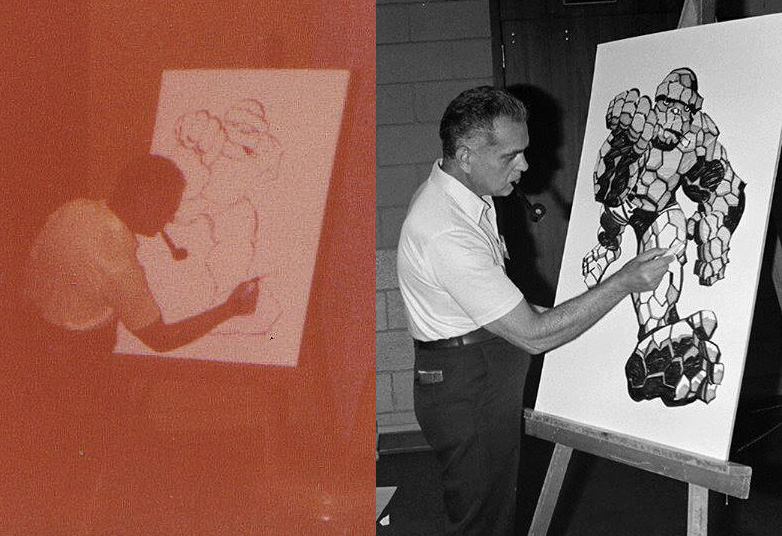 Topping the list, at least for this meager fan-boy, was getting to meet and talk with Jack 'THE KING' Kirby! On the left, Jack takes time out to sign my Program Book, and I get the chance to thank him for the hours of enjoyment he gave me throughout the years with his artwork! On the right, they had these huge drawing tablets laid out where each artist would do a sketch, that was auctioned off later in the convention. Jack, of course, drew our favorite 'THING'!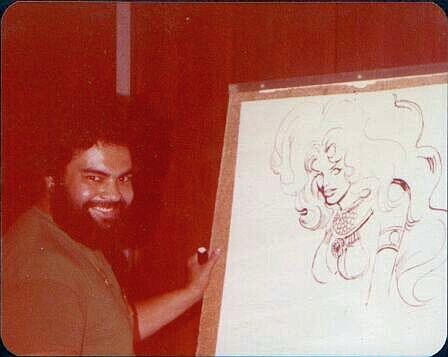 You could usually find me hanging out at the artists' table, meeting folks like George Perez. George was very friendly, and over the course of the 5 days, we had one evening where we sat in his hotel room hearing stories! George was riding high on his 'The NEW Teen Titans' title with DC at this point in time, and for the auction drew everyone's favorite Titan character!




Bill Sienkiewicz was shot into the spotlight with his very popular 'MOONKNIGHT' comic, considered by many at the time as '...MARVEL's answer to Batman'. Bill and his wife provided a lot of levity at the Artists' table and were very out-going to all the fans that flocked to the area! Here Bill draws a naked STORM for one of his fans!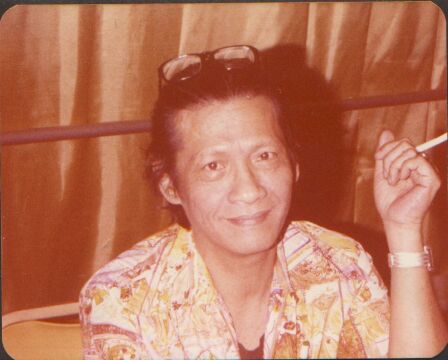 Ernie Chan was doing alot of the covers and interior artwork for MARVEL's popular 'Savage Sword of Conan' black & white magazine. A kind and quiet personality who was happy to sketch out a fantastic Conan on 8x10 Bristle Board for only $5.00! (Ah, weren't those the days!)




Also at the height of their successful 'ELFQUEST' series, were Wendy and Richard Pini! Their table was probably the most crowded at all times, but they still took time out to pose for photo's with their numerous fans.

Wendy drew 'Cutter' for the Auction Event later on in the Convention.

For those that followed the Comic Conventions in the LONG by-gone days, Wendy first came to prominance as 'Red Sonja'...clad in that most skimpy of chain mail and weilding a massive 2 handed sword. She and Frank Thorne (the early artist of the 'Red Sonja' comic) put on skits all over the country at various large meets. Frank made one hell of a great Wizard!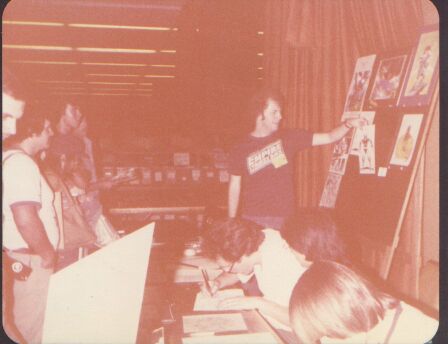 Dave Cockrum selling sketches.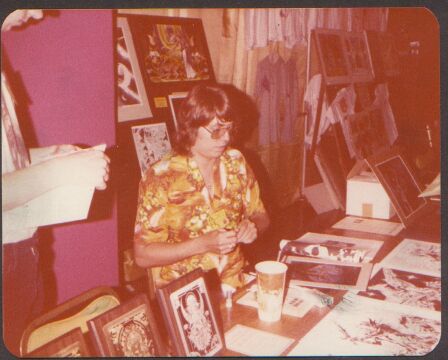 Frank Brunner had just recently finished his adaptation of Michael Moorcock's 'ELRIC of Melnibone" for 'Star-Reach' and had some great portfolio's for sale. What happened with Frank? I haven't heard his name in many a year?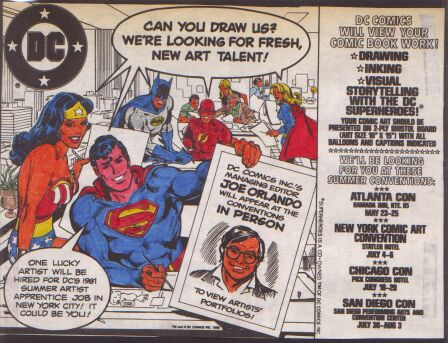 Although the giant poster announced Joe Orlando, I never did see him. Everytime I went by the table out in the lobby area, Len Wein was sitting there.

You want to break into Comics and need to hear some good advice before taking the plunge?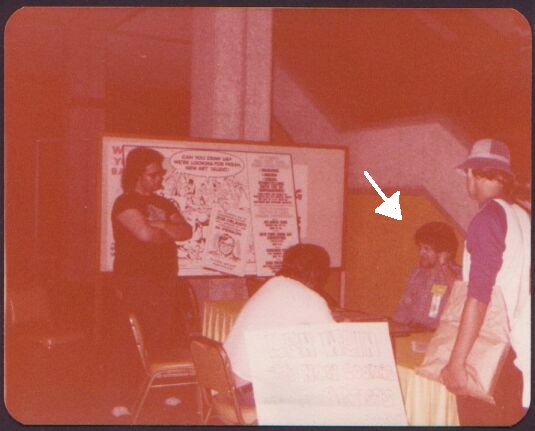 Then definately stand next to this table for a couple of hours!! I saw folks come up to Len with huge artist portfolio's, featuring art work that blew ME away, only to see Len knock each and every piece.
Oh, he did it with finesse! He told each person who showed him their stuff what areas needed improvement, what not to do, what they had to devote alot more time on, what he and DC were looking for, etc. Again, stand there for a long period of time and listen...you'll come away with some views you never held before!!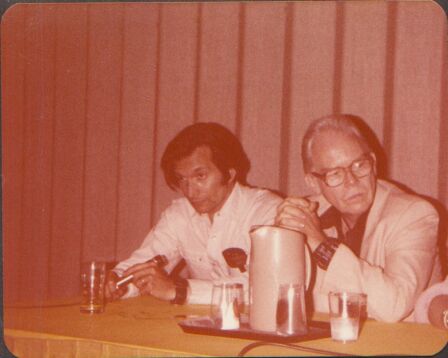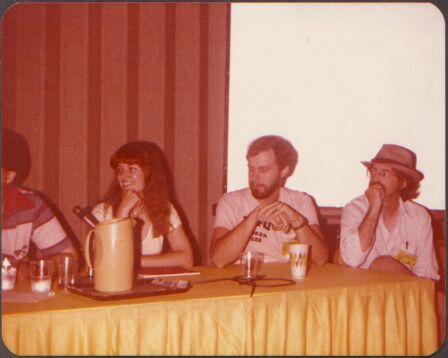 When not making my way from Artist table to the Dealer's Room and back, I took in many of the Discussion Panels the con had to offer.

This was an Artist panel, on the left, Jack Katz, then of 'First Kingdom' fame, sitting next to Frank Kelly Freas, cover illustrator and editor of the 'Star Blaze' trade paperbacks.

On the right, Wendy & Richard Pini of 'Elfquest, sitting next to Dan O'Neill.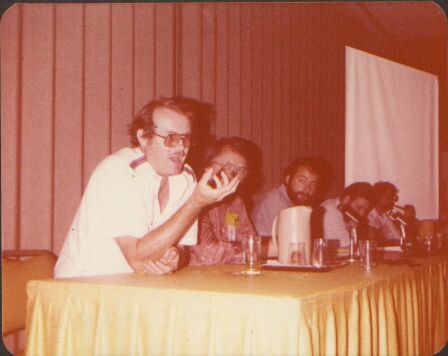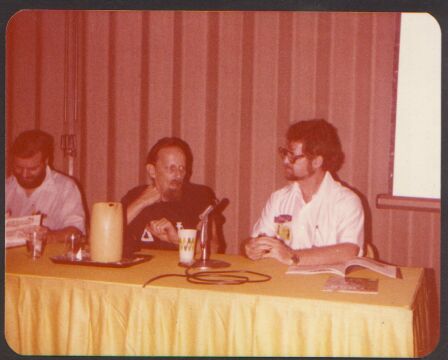 On the Science Fiction side of the house, we had the "Big Rock Hitting The Earth" Panel, with Jerry Pournelle on the left.

On the right is the late great, Theodore Sturgeon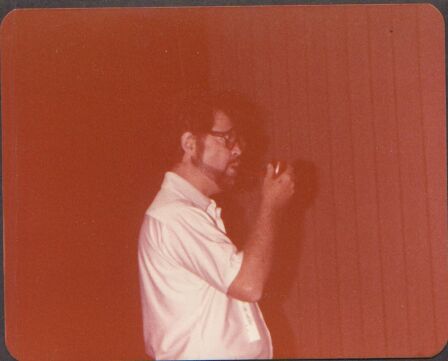 ...and another high point for me, meeting one of my favorite authors, Larry Niven!

Per the Program Events it also notes that Bill Rotsler, Gregory Benford, and Dan Alderson were also on this panel.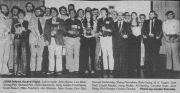 The highlight of the San Diego Con came on Saturday night when the infamous 'INKPOT' Awards are handed out.

This photo was taken from the 'Comic Buyers Guide' (CBG) shortly after the con ended. Reading the names in the captions will show you more of the great people who showed up again and again to Shel Dorf's great run Convention!

Folks I got to see & talk with included Bud Plant, Fred Hembeck, Howie Chaykin... Superman actor Kirk Alyn, Scott Shaw, Terry Austin, John Byrne, Chris Claremont, DC Fontana, Mark Evanier, & Monkey Punch.

You ever get a chance to make it out to the southern coast of California, and have an opportunity to attend this event, do yourself a favor and GO!! You won't be disappointed!

Hope you enjoyed this little jaunt back in time!

Happy Modeling! - Buc (Feb 00')



Home